Home > Writing
Writing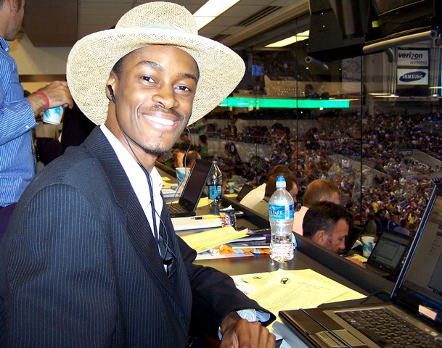 Ib smiles for a photo in M&T Bank Stadium's Press Box, Baltimore, Maryland.
Samples of Ib's Work
UB Chapter of CEO Club (USA)

CEO Club Fosters Spirit of Entrepreneurship and Mentorship
THE League Magazine (UK)

Coaches Of The World Convene: Maryland Hosts NSCAA's 61st Annual Convention

OUT OF AFRICA: Hope from the Power of Football
Free Kick Magazine (Canada)

Interview: Kristine Lilly

Bogus Agents In Africa
Cocorioko (Sierra Leone)

Sierra Leone: A Nation Injured By War But Still Blessed
The Point Newspaper (The Gambia)

Comment: Africa's Reminiscences on its World Cup Dream
SoccerAge.com, Inc. (USA) - now Goal.com
---
Last updated: Aug. 5, 2013
Connect with Ib

Get in touch!
Ibrahim was a highly motivated, conscientious and knowledgeable editor of the Africa section of the Goal.com website when I was chief editor of the International edition. He always displayed energy, enthusiasm and expertise in terms of subject matter and administrative issues, and his role included initiating, writing and commissioning news and feature material, which in turn involved efficiently managing the output of others.
— Graham Lister, Owner, Redwing Communications, and Sub-Editor & Feature Writer at Goal.com UK.
Ibrahim's journalistic experience shows; he excels at every step of the writing process... Ibrahim exceeded my expectations once again this semester. Despite several other commitments during his final [Spring 2009] semester at UB, he submitted a well-written, thoroughly researched article every month in a timely manner and made edits promptly. Even after he's gone, I intend to use Ibrahim's work as a guide for training staff writers on the proper writing style.
— Daniel Flanagan, Editor-In-Chief, The UB Post.
Did you know
Ib has never taken any course or training in journalism, photography, or videography. He is also a self-trained artist.