Testimonials*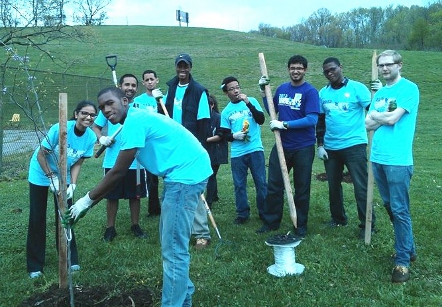 Ib teams up with students and alumni of the University of Baltimore for Community Service Day UB at Gwynn Falls Elementary School in Baltimore, Maryland, April 2013.
Ibrahim's story needs to be known. It is simply incredible and Ibrahim's achievements are an inspiration.
—
Karen Barbour
, President & Founder, The Barbour Group, LLC. and Co-Chair of the Governor's Commission on Small Business in Maryland.
I enjoyed meeting you and hearing your story. I was truly inspired by all that you have done and I know that this is only the beginning for you!
—
Ann Veneman
, former UNICEF Executive Director and U.S. Secretary of Agriculture.
Ibrahim Dabo leads with quiet fortitude, great wisdom and professional expertise. During our time together at PRIME Research, Ibrahim went beyond his job description many times to help where help was needed (while meeting and exceeding all the objectives for his primary function). Ibrahim is a rare person who gets the job done while adhering to his high personal values as well as his demanding professional standards. I admire him greatly.
—
Mark Weiner, CEO and Senior Consultant PRIME Research
You have demonstrated repeatedly that you have the outstanding personal and intellectual qualities to accomplish any goals which you and others set for you. I am pleased and proud to be your friend and to have been associated with you during your student days at Baltimore City Community College. Your future is filled with great expectation of which I am confident that you will reach and exceed.
—
Dr. Richard M. Turner, III, Principal, Turner Executive Search Associates and President Emeritus, Baltimore City Community College.
As Ibrahim's supervisor I have been thoroughly impressed by his work effort. He always did what it takes to complete a project no matter how much time it took to get done. I really enjoyed the positive attitude Ibrahim brought into the office day in and day out and he will be valued as an asset for any company he chooses to work for.
—
Matthew Losover, Salesforce & Website Marketing, Undergraduate Marketing at Towson University
Ibrahim was an amazing leader for the web team at the United Methodist Church's global mission agency. He did a superb job launching two new sites for various projects, and a redesign of the organization's main site. Ibrahim makes people who are not technologically savvy feel at ease. He is an excellent project manager and delivers results.
—
Larry Hygh, Jr., former Associate General Secretary and Director of Mission Communications, General Board of Global Ministries.
Ibrahim has great talent in managing web projects, and a team leader who made the Web redesign project at Global Ministries a success.
—
Sushil Bhujbal, former Digital Media Administrator, Web Team, General Board of Global Ministries.
Ibrahim moved our web redesign forward, managing a team of four while working with various vendors, first to assess their offerings and then to develop strategies for the new website. He was a skilled manager with a strong work ethic and was a pleasure to work alongside. I learned a lot from him.
—
Dan Licardo, former Web Content Administrator, Web Team, General Board of Global Ministries.
I've had the pleasure of working with Ibrahim on Global Ministries' Internet revitalization project. Quite simply, Ibrahim is a joy to work with. Ibrahim is extremely diligent, professional and attentive to detail. Throughout the project he carried himself in a professional manner and communicated well with not only me, the consultant, but with his internal team and stakeholders. He took many of our recommendations, asking appropriate detailed questions and implemented many of them in a timely manner. I could see his team also felt very strong in his capabilities and leadership. Lastly, and we often joked about this, I don't know when he sleeps. The amount of work he fits into a day, let alone the work he does philanthropically, is truly astonishing and commendable.
—
Carmine Porco, Vice President & General Manager, Prescient Digital Media, Canada.
Ibrahim, it was great meeting you! You have an amazing story of vision, drive, and persistence.
—
Andy Amrhein, Senior Director, Financial Planning and Analysis, Under Armour.
Ibrahim is one of the most inspiring students I have ever taught. What he has accomplished since coming to the States from Sierra Leone is remarkable. His drive, imagination, and ability to think outside the box serve as an example to us all that the American Dream is still alive and able to be fulfilled.
—
Patrick Smithwick, former University of Baltimore professor.
Ibrahim was a graduate student of mine at Towson University during the Spring 2012 semester, for the AIT600 Information Technology Infrastructure class. I found Ibrahim to be an excellent student who always greeted me with a positive and dedicated attitude in completing all of his assignments promptly, completely, and with the utmost professionalism. Ibrahim was continually engaged in the class discussion and bringing new points of view to the discussion. Ibrahim was a pleasure to interact with each week during the semester, and demonstrated great interpersonal skills when working with other students in class discussions and group projects. Ibrahim demonstrated the ability to present information in a clear manner through oral class presentations, and in written assignments, both individually and group formats. I believe he will continue to excel in all courses and careers he chooses.
—
Dan Bernhardt, Adjunct Faculty, Towson University, and Director of Financial Reporting Systems and Analysis, Amtrak.
Congrats! You inspire me to do well in school. Love always.
—
Stephanie Crane, Student, Maryland.
Ibrahim's journalistic experience shows; he excels at every step of the writing process... Ibrahim exceeded my expectations once again this semester. Despite several other commitments during his final [Spring 2009] semester at UB, he submitted a well-written, thoroughly researched article every month in a timely manner and made edits promptly. Even after he's gone, I intend to use Ibrahim's work as a guide for training staff writers on the proper writing style.
—
Daniel Flanagan, Editor-In-Chief, The UB Post, University of Baltimore.
Ibrahim Dabo is a very dynamic, versatile and resourceful writer, always willing to broaden the reader's perspective. I have had the privilege to work with Ibrahim in many capacities and his sense of maturity and leadership exceeds all expectations.
—
Dare Makun, Advanced Learning Technologies Consultant, American University.
Ibrahim Dabo has served in various positions in our church, from sexton to Chairman of the Financial Committee, to Communications Chair, Trustee and webmaster. No matter what the position, Ibrahim has executed his duties in a conscientious manner. He is a reliable, trustworthy and balanced individual, who has continued to accept increasingly larger roles in our congregation.
—
Mernie Crane, Pastor Old Otterbein United Methodist Church, Baltimore, Maryland.
Ibrahim was a highly motivated, conscientious and knowledgeable editor of the Africa section of the Goal.com website when I was chief editor of the International edition. He always displayed energy, enthusiasm and expertise in terms of subject matter and administrative issues, and his role included initiating, writing and commissioning news and feature material, which in turn involved efficiently managing the output of others.
—
Graham Lister, Owner, Redwing Communications, and Sub-Editor & Feature Writer at Goal.com UK.
Ibrahim worked as a Lead Editor for African football at SoccerAge.com where I was in charge of the overall content. He was extremely knowledgeable, committed and able to provide unconventional, appealing and professional articles. I fully recommend Ibrahim as a professional and a person.
—
Pier Luigi Giganti, former Director of Content and UK Bureau Director, SoccerAge.com (now Goal.com).
Thanks. Ibrahim. Please continue like this, you are doing great things for the site (Goal.com). We should also start applying the same ideas to the other Goal.com areas of interest (besides Africa).
—
Michael Simpson, Director, Goal.com, Milan, Italy.
Ibrahim is committed to education and the betterment of people's lives through communication, partnership and understanding. He is a prolific writer with always an interesting story to tell. He seeks to get at the heart of both the subject and substance of his stories. Over the past three years, I have come to know Ibrahim as honest and fair in his dealings with school, work, friends and life's experience. He is an eminent, accomplished individual in the minds of the many people he has affected.
—
Bill Fleming, Public Relations Writer-Editor, Baltimore City Community College.
Ibrahim is the consummate pro, with extraordinary attention to details. He creates visuals and news articles that one would expect to see in top national publications. My only hope is that Ib continues to assist the many good causes he encounters, but surely big corps will take notice of his talents. I've had the incredible pleasure of working with Ibrahim on stories for the Associated Black Charities and the American Red Cross, Chesapeake Region. He brings journalism to the 'ideal.' One gets the sense of watching a brilliant star pass by as he works.
—
Zack Germroth, Project Manager for national VA Manual, and Space Data Highway.
Ibrahim Dabo is a true professional and has worked on two of my celebrity events as a photographer and as a writer. Ibrahim works hard and is very reliable in all of his professional efforts as he pays attention to detail and is super creative when photographing the celebrities and the attendees of our golf and gala events. I will continue to work with Ibrahim on all of my events and see him as such an amazing asset for any organization that hires him.
—
MJ Pedone, President & CEO indra public relations.
You keep amazing me with your intellectual development each day that passes on, as if your quest for learning is unquenchable, even if all the seas were used up completely and replenished over and over again in the process, infinitely. You don't want to spare any space between your late dad and you, whose penchant for learning was extremely tremendous, and he died without accomplishing all that he aimed and intended. A great scholar, he indeed was. Already you are in great demand here and there, inviting you as a resource person in your own right to attend seminars and workshops to share your knowledge and experience with others. I wish you well in your human endeavor to contribute to the common pool of human development.
—
Alieu B. Turay, retired civil servant, Sierra Leone Government.
Your tireless effort to both continue your father's legacy and achieve academic excellence are a true testimony to life's purpose.
—
Alison Quammie, The New York Public Library.
With what you've learned and what you're committed to do, you're destined to do great things! I'm so proud of everything you've achieved. Your story is truly a testimony of what can be accomplished through hard work and sheer determination. Thank you for 'living the Mission' of Baltimore City Community College! Your father would be so proud of what you and your siblings have accomplished. Though his life was short, I submit that he did accomplish his goals…through each of his children!!! You, like all of us, choose what we want to do with our lives: (1) we can either pursue selfish interests in getting others to serve us; or, (2) we can decide that we will be of service to others. You have obviously chosen the latter and, consequently, will be forever blessed for it. Keep up the good work!
—
Dr. Carolane Williams, President, Baltimore City Community College.
It is sad that your Father can't be here in person to witness your achievements, but you can be confident that he would be immensely proud of you and your siblings, of the way each of you carry yourselves, of the way you show respect and command respect from others. His legacy is clearly alive and well.
—
Christian Antalics, Product Manager, Econochill, LLC.
Congratulations on your participation in the Helen P. Denit Honors program and your presentation on 'VoIP and Its Implementation at the University of Baltimore.' We, at the Merrick School of Business, are very proud of our highly talented, motivated, and career-oriented students such as yourself.
—
Darlene B. Smith, Dean, Merrick School of Business, University of Baltimore.
I found your presentation to be very interesting because I learned more about UB's technology and how finding the right fit is not as easy as one would think. I have a better appreciation for the IT decision making process. As an Honor Student and a totally involved student, you have given UB more than most. We have benefitted by your presence. I know you will do well and serve as a good role model for other young men who need to get out of their feeling that they can't make a difference so why even try.
—
Judy Sabalauskas, Academic Advisor, Merrick School of Business, University of Baltimore.
As my VP of Communications, I found Dabo to be indispensable. Ibrahim was and continues to be an inspiration to the Student Events Board and his peers at the University of Baltimore. You must know he has a very enthusiastic willingness to tackle new projects with initiative. An articulate man who isn't afraid of committing ideas to the round table; my MVP at conventions, Ibrahim will seek out new talent, form new alliances and follow-up like no one before. Ibrahim was also a critical player in establishing new UB/MICA (University of Baltimore/Maryland Institute College of Art) relations, an important bond to nurture as the two universities continue to grow. I'm certain Ibrahim would be a key player on anyone's team.
—
Joe Johnson, former president, Student Events Board, University of Baltimore.
Ibrahim is a stellar student with tremendous leadership potential. He is action-oriented, a good communicator, and understands team dynamic. I've witnessed him working with a small team for our Student Events Board, and he is very good at communicating goals and expectations with his team members. I believe Ibrahim has a great future ahead of him and strongly recommend him!
—
Anthony Butler, Assistant Director of Leadership, Center for Student Involvement, University of Baltimore.
As Coordinator of the University of Baltimore's Peer Advising Program, I have known Ibrahim for several semesters as a Peer Advisor. He was chosen on the basis of his strong academic credentials, leadership skills, people skills, and communication skills. His performance exceeded my highest expectations. Ibrahim also got results in circumstances that would have discouraged and defeated others. Two characteristics particularly stand out in my mind. One is his inclination to approach situations as a learner. I don't know when I've seen someone—student or staff member—fine-tune their performance so successfully based on feedback. The other is his positive outlook. Sometimes new students can be hard to engage. Ibrahim worked with several advisees who were at first unresponsive but eventually responded to his persistence—not just a dogged, head-down sort of persistence, but an inquisitive, seeking-to-understand persistence that led him to try new approaches and his advisees to ultimately respond to him enthusiastically. I was astonished at his advisee's turn-around.
—
Beth Mizell, Director, Academic Resource Center, University of Baltimore.
Ibrahim, that was a very inspiring speech on graduation day. We looked at each other right as you were leaving the stage. I am the son of political refugees from Cuba, so your story touched me in a special way. Your story is material for writing a book someday. Keep making speeches like that where anyone will listen. Many people in this country are hungry for stories like yours. It is inspiring!
—
Chavez, Junior Accountant, Catholic Charities.
Congrats on the fine speech you gave at graduation, along with all of your accomplishments, IB! You are the best spokesman CS (Counseling Services) could ever have!
—
Dr. Myra Waters, Director, Counseling Services, University of Baltimore.
We are so proud of your many accomplishments as a UB alumnus. Keep up your wonderful and passionate work. You are an inspiration to many!
—
Wendy Burgess, Director, International Admission and Enrollment, University of Baltimore.
It seems like you came from a long, hard journey, and your story was a great inspiration to me. I loved that story you told us. I had great interest in it. I'd be the first person to buy your book, whenever you write one.
—
Melissa Blackwell, Youth from Trinity United Methodist Church, Rome, Georgia.
Congratulation to your amazing achievements! You worked hard and you deserve the glory for your outstanding engagement. Good luck on your road to peace and understanding and be blessed.
—
Brigitte Wisler, Office of Adolf Ogi, former President of Switzerland and Special Adviser to the United Nations Secretary-General on Sport for Development and Peace.
People person, strong management skills, resourceful, committed, and versatile.
—
Al Russell, Risk Investigator at Global Payments.
I'm grateful to be on your mailing list. You obviously have your finger on the pulse of emerging trends in Maryland and beyond.
—
Derek R. Swanson, Vice President, Strategic Services International, LLC.
I really enjoyed your blog and interviews, thank you for sharing. Please keep in touch. Your story is an inspiration.
—
Gregory Minott, founding principal of D.R.E.A.M Collaborative.
I visited your site and the blog. Very nice work. It has been a pleasure working with you this year.
—
Bob Ball, Minority Business Enterprise Outreach Consultant, Baltimore County Public Schools.
Ibrahim, what can I say. I can say that you represent what a young man can do for himself if he has that internal confidence and self-respect. What has happened to you has had to be by the very nature of the person that you are. I take great pride in knowing that you are my dear friend.
—
Stephen Antalics, Visiting Scientist, Lehigh University, PA.
'D'Pa', you're the most famous Sierra Leonean I've ever known! I am very proud of you! I expect you to do great things around the world!
—
John Hill, Vice President, IT Solutions, G1440, LLC.
I want to give you congratulations on your academic success and accomplishments. I have only known you for close to a year and I can see there is something special about. You are very focused and determined to do your best and for that I am proud to say that I know you.
—
Marcus Jackson, Customer Service Manager, BTE Technologies, Inc.
As always your articles promote positively needed uplifting testimonies which is a credit to your spirit.
—
You're really coming into your own as a reporter and photo journalist! Keep up the good work.
—
Luwanda Jenkins, Maryland's Special Secretary, Governor's Office of Minority Affairs.
We are certainly moved by your story and impressed by the life you have made for yourself. Your desire to 'give back' to those in need is inspiring.
—
David H. Harrison, Administrative Assistant to the Executive Director and U.S. office administrator, Grassroot Soccer, Inc.
This is to acknowledge your commitment, sincerity and hard work as a team player in sports and development and all what you have been doing for our organization. Also, I'd like you to please write a letter of encouragement and motivation to our youth. Their spirit is very low coupled with serious problems of materials and finances. I will read your letter to them to serve as a morale booster and inspire them to make sacrifices as we prepare for the National Youth Day activities.
—
Patrick Ndifon, General Coordinator, Cameroon Association of Active Youths Sport Academy for the Underprivileged, Cameroon, Central Africa.
Your mission is indeed a great one and we at the Kanu Heart Foundation wish you well in realizing your vision for Africa. As a Foundation that helps African children receive life saving treatment for heart defects, we commend you on incorporating sport into your humanitarian work.
—
Kanu Heart Foundation, UK.
I think that your initiative is a noble one and one which could have realistic far reaching effect.
—
Salorne McDonald, Behaviour Change Communications Manager, Society For Family Health, Trinidad.
I am delighted to note your interest in getting involved in strengthening national AIDS responses with focus on Prevention especially as we are faced with strong denial due to what is believed to be 'low prevalence'.
—
Leopold Zekeng, UNAIDS Country Coordinator, Ghana.
I have read your profile online and am very impressed with your experience and actions.
—
Kate Cowan, Director of International Development, International Alliance for Youth Sports, Florida, USA.
Thank you again for your passion to help the African Child and Youth from the ills of AIDS through sport.
—
Clement Chileshe, African Representative, International Alliance for Youth Sports, Lusaka, Zambia.
Just want to say that I am truly glad to see a very talented young African brother doing something that is good for life. It really made me feel good to see and read your personal biography. You and all your family are truly blessing from our Heavenly Father and I pray that HE keeps you doing so well and stay healthy.
—
Sylvester Dancy Jr., Senior IT Specialist, Department of Homeland Security, USA.
I really enjoyed our conversation while on the plane. It's refreshing to hear such good things coming from a young person such as yourself, who is making a difference in the community—especially when it seems that all you ever hear is bad news.
—
Greg Reed, Equipment Mgmt. Specialist, Social Security Administration, Maryland.
I have known Ibrahim Dabo since 2009, he has many assets that set him apart! A few that I notice every time I see him or talk with him are: He has a great attitude, he is a great cheer leader of others, he is very intelligent, he is always pursuing more knowledge and experience, he is very successful at the positions he is charged to manage, people know him, like him and trust him and at still a very young age he has mastered some positions with international organizations that have been very sad to see him move on. I can't say enough good about him, I am very much looking forward to what is to come with my next chapter with Ibrahim.
—
Danny Bendebba, Co-Founder at HonorScroll.
You are to be commended for your level of involvement with very worthwhile causes. You truly have demonstrated that there are no barriers to success that cannot be overcome with persistence and hard work. In addition you have shown how the term 'honor' can best be manifested for organizations (Sigma Iota Epsilon) such as ours.
—
Dr. James Francis, President, Sigma Iota Epsilon—National Honorary and Professional Management Fraternity, and Director of the Center for Professional Development and Business Research, Colorado State University.
*Job titles may have changed.
---
Last updated: Dec 24, 2015