Home > Migration
Migration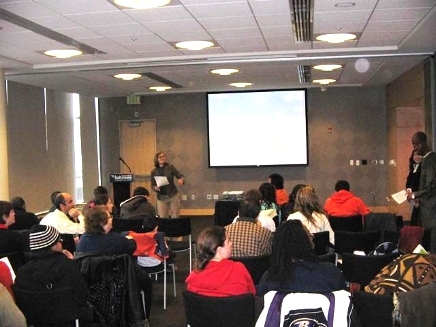 Far right: Ib presents at University of Baltimore during International Education Week in 2007. He spoke about a holiday widely celebrated in The Gambia.
Story of Migration: Ibrahim Dabo
Ibrahim Dabo describes his migration away from war-torn Sierra Leone and the trials he experienced after he was forced to leave the country. Featured by Moyo - Being And Doing.
Living as a Refugee: Ibrahim Dabo
Ibrahim Dabo discusses his life after he migrated from Sierra Leone to The Gambia, especially the people and things that helped him adjust to a new country and culture. Featured by Moyo - Being And Doing.
Related Links:

Read Ib's Full Profile

Read Ib's Testimonials
---
Last updated: Dec. 21, 2015
Connect with Ib

Get in touch!
Ibrahim, that was a very inspiring speech on graduation day. We looked at each other right as you were leaving the stage. I am the son of political refugees from Cuba, so your story touched me in a special way. Your story is material for writing a book someday. Keep making speeches like that where anyone will listen. Many people in this country are hungry for stories like yours. It is inspiring.
— Victor Chavez, Junior Accountant, Catholic Charities and University of Baltimore Graduate.
It seems like you came from a long, hard journey, and your story was a great inspiration to me. I loved that story you told us. I had great interest in it. I'd be the first person to buy your book, whenever you write one.