Home > About Ib Dabo
About Ibrahim Dabo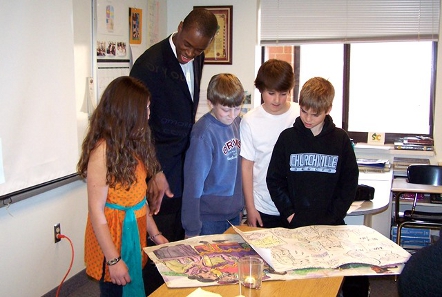 Ib was guest speaker at
Harford Day School in Maryland
where he spoke in separate sessions to sixth-, seventh-, and eighth-grade students in commemoration of International Day in 2010. He also shared his
artwork
with the students.
Leadership, Communications, and Information Technology
Ibrahim Dabo (Ib) is a versatile leader who values positive relationships with people. With that he's successfully built and led dynamic teams in organizations that have in turn positively impacted so many people globally.
General Board of Global Ministries
Ib rejoined Global Ministries in 2016 as Web Team Leader and Digital Communications Manager before later taking on a new role as Director of IT Systems Development. He currently oversees all of the organization's systems development projects and enterprise business solutions.
PRIME Research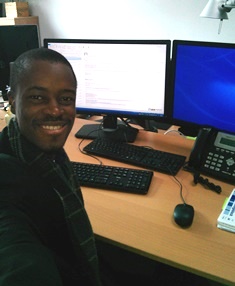 In 2014, Ib spent several weeks at PRIME's global headquarters in Mainz, Germany, working closely with senior executives, IT development teams, and the German Portal Team.
In 2014, Ib filled in the newly created Senior Web Portal Manager role at PRIME Research with a primary objective of coordinating and leading all IT development requirements gathering efforts, communication, and product implementation for the company's Media Insight Suites and related systems for US clients.
Managing the US Portal Team and working directly with at least 60 international project managers, IT development staff, and senior executives, Ib's efforts significantly contributed to the overall success of the global public relations and strategic communications consulting firm, which helps some of the world's most valued brands and corporations by providing them with the tools and insights they need in order to make strategic decisions.
Towson University
Working as a Graduate Assistant (Database & Website Coordinator) at Towson University in 2012/13, Ib helped the Undergraduate Marketing department's effort of attracting prospective students and tracking enrollment by not only managing the Constituent Relationship Management (CRM) software, departmental website, and tour and reservation system, but also creating Annual Yield Reports to measure success.
He was instrumental during the requirements gathering, fit/gap analysis, and implementation of the university's new CRM—Salesforce.
General Board of Global Ministries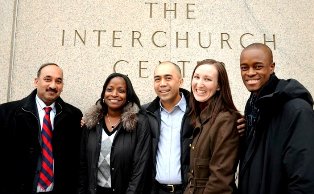 Ib and his Web Team members at GBGM bond in New York City. From left to right: Sushil Bhujbal, Robin Bideau, Dan Licardo, Beth Buchanan, and Ib Dabo.
Ib joined the global mission agency of the United Methodist Church in New York as Web Team Leader in 2010 and oversaw administration of its websites, e-newsletters, and digital asset management system while managing a team, initially comprising of seven professionals, as well as vendors and consultants.
Under his leadership, GBGM undertook a major redesign of its websites (UMCMission.org and UMCOR.org), the first of such large-scale projects in at least seven years, which successfully completed on time and budget. The project phased out legacy systems, deployed new technology, and boosted overall efficiency while addressing GBGM's strategic goals. Ib created the website Governance Strategy and led development of a new Content Management Plan. He also oversaw an interagency—13 United Methodist agencies—web development project for the church's focus area on Ministry with the Poor.
His team received awards and certificates of excellence at annual communicators' conventions in Arkansas and New Mexico for achievements in the online ministry. GBGM operates in 136 countries, while the United Methodist Committee on Relief (UMCOR), a unit of GBGM, provides relief, rehabilitation, and health services in more than 80 countries.
Maryland-Washington Minority Contractors' Association
As Technology Project Leader for MWMCA, Ib managed their e-newsletter, constituent database system, and website. He led the complete redesign and redevelopment of the website—saving at least $45,000 in costs—and helped with post-implementation training and website administration.
Old Otterbein United Methodist Church & Ypsilanti First United Methodist Church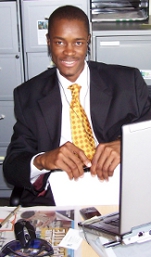 Ib worked for University of Baltimore's Student Events Board in 2008.
Ib served as Webmaster, Communications Coordinator, Chair of the Communications Team, and Trustee at Old Otterbein. As Financial Secretary, he managed the church's financial system—Logos Management Software.
At both Old Otterbein (Maryland) and Ypsi. First (Michigan), he led the complete redesign and redevelopment of their websites and helped with post-implementation training and administration.
University of Baltimore
Ib was Vice President of Communications for the University of Baltimore's Student Events Board.
He managed a team that included Advertising and Promotions Manager, and Public Relations Manager, and redesigned the organization's website, managing all its content.
He initiated partnership between the Student Events Board and the Maryland Institute College of Art, an important bond to nurture the student body between the two universities.
Ib received the Outstanding Member Award for outstanding contribution and exemplary leadership to the Student Events Board in 2009.
Writing, Journalism, and Photography
Goal.com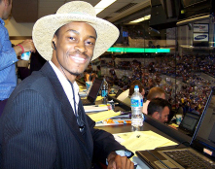 Ib in M&T Bank Stadium's Press Box in Baltimore, Maryland.
Appointed Africa Editor for Goal.com (formerly SoccerAge.com)—one of the world's leading multilingual Internet sport media companies—at the tender age of 16, Ib created their entire strategic plan for Africa.
Over a seven-year period, he managed the entire Africa section of Goal.com, commissioned news and feature materials, and recruited and managed correspondents and contributors around the world.
Impressed by Ib's leadership, Goal.com's senior director in Milan, Italy, wrote a note saying, "You are doing great things for the site. We should start applying the same ideas to the other Goal.com areas of interest (besides Africa)." In 2010, Goal.com reached out for an Exclusive Interview with Ib.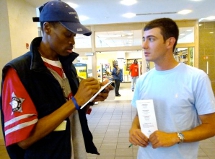 Ib interviews a prospective UB law student during the
university's "UB Living" project
.
University of Baltimore
As Senior Staff Writer for The UB Post, the University's student newspaper, Ib covered special reports and breaking news, exclusive interviews with students, faculty and staff, and Maryland state administrators.
Ib Talk Online
Ib is Founder and Executive Editor of Ib Talk Online, which covers exclusive interviews with celebrities, philanthropists and leaders in the education, entertainment, health, sports, and nonprofit advocacy worlds, as well as government and the private sector.
In addition to writing, his passion for photography has significantly complemented and elevated his story-telling efforts. His work has appeared in numerous other mainstream and trade publications, newspapers and magazines.
Speaking, Inspiring and Mentoring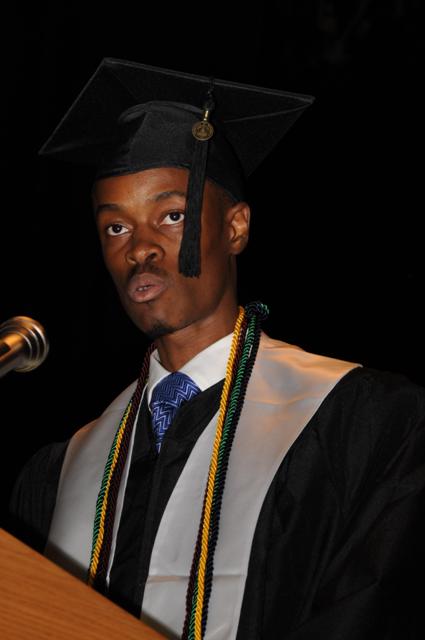 In May 2009, Ib spoke on behalf of his class at University of Baltimore's Commencement Ceremony.
At University of Baltimore, Ib was guest speaker during International Education Week in 2007, the 2009 Annual Scholarship Luncheon Celebration hosted by the University's president, and representative of the Senior Class to speak at the May 2009 Commencement Ceremony.
He inspires people with his story and was guest speaker to students at Lehigh University, PA, Harford Day School, MD, Oldfields School, MD, and to 60 youths from Trinity United Methodist Church in Rome, GA.
In 2009, Ib was interviewed on Baltimore-based radio station WEAA 88.9 FM in a special program, "People and Stories that Inspire," and in 2014 preached on the theme "Reviving Our Faith" at St. Matthew's United Methodist Church, Ypsilanti, Michigan.
Ib volunteers with several organizations—such as Baltimore City Community College's Refugee Youth Project, and Boys Hope Girls Hope—and inspires many young people through mentorship and "scholars" programs. He has been commended for his hard work in fostering worthy causes by the likes of Adolf Ogi, former president of Switzerland and Special Adviser to the United Nations Secretary General on Sport for Development and Peace.

Read Ib's Testimonials
---
Last updated: Dec. 26, 2015