Home > Uncle Ib's Kitchen
Uncle Ib's Kitchen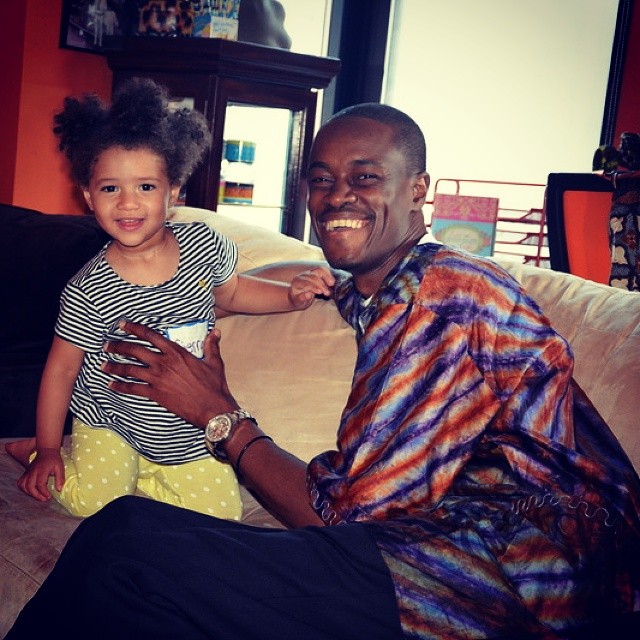 Photo: "Okie" and Uncle Ib. The name "Uncle Ib's Kitchen" was inspired by Ib's two-and-half-year-old niece, "Okie", who's fond of reaching out to her uncle when he's in the kitchen.
My Story
Uncle Ib's Kitchen is about my cooking experience. I've hated cooking all of my life. Yet, in an astonishing turn of event, I suddenly developed so much love for cooking, surprising so many people (including myself) and now cherishing every moment in the kitchen.
May 16, 2015
@IbDabo
For more than 30 years I hated the idea of cooking. The thought alone made me feel sick. My culinary skills were limited merely to minor activities such as boiling potatoes, eggs, frying omelette, and cooking rice. This was a nightmare for someone who adores food - good food I mean.
Not knowing how to cook the food I love had been a disaster for me, especially if there wasn't any family member around to cook for me. It meant either spending a lot of money in restaurants or staying hungry most of the time. I was often trapped between both worlds.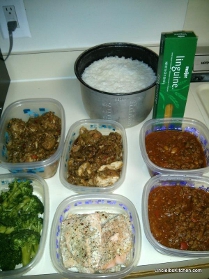 Uncle Ib's dishes: Chicken Yassa (left), Spaghetti sauce (right), cooked rice, broccoli, and baked salmon.
In 2014, I sometimes cooked rice and ate it with sardine and butter. At night I'd eat cereal only to be hungry again 15 minutes later. I constantly debated on a sustainable solution to my problem.
2015 was a dream come true. I woke up one Saturday morning and said to myself, "Enough of this nonsense."
I was craving Chicken Yassa, one of my favorite Gambian dishes. After searching for the recipe online I headed straight to the grocery store.
Upon returning home, I went straight to business, trying to figure out how to make my first real dish a success. I was completely stunned when I first tasted the Chicken Yassa I cooked.
I was a little nervous at first, not knowing what to expect---how good or bad it will taste.
It turned out so good that I immediately knew this was the turning point. I had found a new hobby, and, indeed, the right one for the right reasons.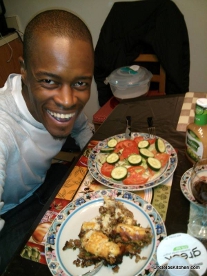 Gone are the days of staying hungry or spending a lot of money in restaurants. Uncle Ib enjoys his homemade shepherd's pie.
I've since made significant progress in the kitchen: from baking salmon, steak, cake, to cooking my favorite spaghetti sauce and linguine, and shepherd's pie. I'm confident the list will continue to grow.
One might ask how the name "Uncle Ib's Kitchen" came about. My two-and-half-year old niece, Okie, often calls me when I'm in the kitchen.
She's still learning how to talk but is fond of only saying, "Uncle Ib.... Uncle Ib...." She would go on and on to which I'd respond, "Uncle Ib is busy in the kitchen."
Upon deciding I'd document my cooking experiences online, I thought of somehow combining my conversation with Okie as a perfect flow of what's now "Uncle Ib's Kitchen".
Moving forward, I will continue to share my experiences as I learn and improve my skills. One thing I know for sure is that the days of stay hungry or spend money in restaurants on a routine basis are finally over.
I also want to encourage others who love to eat but do not know how to cook to give it a try. I never thought I'd one day learn how to cook, let alone share my experiences with others. With God, all things are possible.
If you you're someone feeling trapped in a similar situation as I was and need some motivation to start cooking, do not hesitate to reach me at ibdabo@ibdabo.com.
For ongoing updates and photos from my kitchen, please Like Uncle Ib's Kitchen on Facebook and follow @UncleIbsKitchen on Twitter.
Thank you for your time.
Uncle Ib
---
Last updated: May. 16, 2015