Welcome to Ib Dabo's website!
Ibrahim Dabo is a self-trained writer and journalist with more than 11 years' professional experience producing and telling the story in sports, cause-oriented advocacy, popular culture and politics. For many years, Ib served as Africa editor of one of the world's largest international sports websites where he created the entire strategic plan for Africa. His work has appeared in numerous mainstream and trade publications, newspapers and magazines.
As a communications and IT executive, Ib has guided several major projects to success for organizations in the U.S. and beyond. At a global nonprofit headquartered in New York City, Ib's business acumen and leadership enabled him to build and lead a dynamic team, break ground on new projects and make strategic and often tough decisions in a timely manner.
The lucky survivor of a brutal civil war in Sierra Leone where he lost several family members and properties, Ib is on a remarkable journey to inspire others and raise awareness of humanity's most pressing issues – peace and war, hunger, disease, effective uses of philanthropy, and cooperation through sports – as he seeks to make a difference through writing and humanitarian endeavors.


Read full profile
Goal.com, the largest soccer media company in the world, had an illuminating chat with Ib about the civil war in his country and success in the United States. Read interview
---
"Ibrahim's story needs to be known. It is simply incredible and Ibrahim's achievements are an inspiration," Karen Barbour, President & Founder, The Barbour Group, LLC.
"I enjoyed meeting you and hearing your story. I was truly inspired by all that you have done and I know that this is only the beginning for you!" Ann Veneman, former UNICEF Executive Director who was also former U.S. Secretary of Agriculture.
"With what you've learned and what you're committed to do, you're destined to do great things! I'm so proud of everything you've achieved. Your story is truly a testimony of what can be accomplished through hard work and sheer determination!!! Thank you for 'living the Mission' of Baltimore City Community College!" Carolane Williams, President, Baltimore City Community College (BCCC).
"You are to be commended for your level of involvement with very worthwhile causes. You truly have demonstrated that there are no barriers to success that cannot be overcome with persistence and hard work. In addition you have shown how the term 'honor' can best be manifested for organizations such as ours," James Francis, President, Sigma Iota Epsilon (National Honorary and Professional Management Fraternity).
"You have demonstrated repeatedly that you have the outstanding personal and intellectual qualities to accomplish any goals which you and others set for you. I am pleased and proud to be your friend and to have been associated with you during your student days at BCCC," Richard M. Turner, III, Principal, Turner Executive Search Associates who is also President Emeritus, Baltimore City Community College (BCCC).


Read more testimonials


View Photo Gallery
Note: Click on any photo to enlarge after accessing the Facebook photo gallery. You are not required to Sign Up or login to Facebook to perform this action.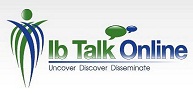 Uncover Discover Disseminate
Ibrahim Dabo is founder and executive editor of Ib Talk Online. Philanthropy is the abiding force behind Ib Talk Online, which seeks to engage leaders of the cause to spread hope and opportunity throughout the world. As part of this quest, Ib has conducted many high-profile interviews with celebrities and senior-level professionals in the sports, entertainment, education, and nonprofit advocacy worlds, as well as government and the private sector.
Visit Ib Talk Online
Connect with Ib Talk Online via your favorite social media:
---
Connect with Ibrahim via Social Media
"Champions experience something in common: they develop an indomitable spirit and work very hard to deservedly become champions. We can all become champions in various aspects of our lives if we set goals and work very hard to achieve those goals." - Ibrahim Dabo
Have a question or comment?
E-mail Ibrahim or click here