It takes hard work to lead and inspire others. Dedication and perseverance keeps me going. I'd love to hear from you on how together we can make a difference. Thank you! Ib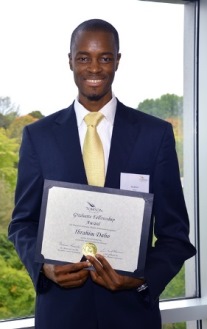 Ib Dabo has received many awards for academic excellence, outstanding leadership, and online communications.
Learn more
A results-driven leader in communications and IT with a global perspective and reach, experienced in building dynamic teams, cultivating superb relationships with stakeholders and senior executives, garnering excellent employee appraisals, and managing vendors and consultants, Ib possesses strong knowledge of online communications, web project management, negotiation and contracts, key performance indicators, and security objectives.
An accomplished writer and journalist with more than 13 years' professional experience, Ib, at the tender age of 16, was appointed Africa Editor for Goal.com, a global multilingual Internet media company, where he created their entire strategic plan for Africa, managed correspondents, and commissioned and administered all content.
The lucky survivor of a brutal rebel war in Sierra Leone, Ib inspires others and raises awareness about humanity's most pressing issues. He founded Ib Talk Online with a mission to fulfill these causes, and interviews leaders in industry—presidents/CEOs, celebrities, educators, humanitarian ambassadors—and covers the work of leading charity organizations.

Full profile
I enjoyed meeting you and hearing your story. I was truly inspired by all that you have done and I know that this is only the beginning for you!
—
Ann Veneman
, former UNICEF Executive Director and U.S. Secretary of Agriculture.
Ibrahim was an amazing leader for the web team at the United Methodist Church's global mission agency. He did a superb job launching two new sites for various projects, and a redesign of the organization's main site. Ibrahim makes people who are not technologically savvy feel at ease. He is an excellent project manager and delivers results.
—
Larry Hygh, Jr, former Associate General Secretary and Director of Mission Communications, General Board of Global Ministries.
You have demonstrated repeatedly that you have the outstanding personal and intellectual qualities to accomplish any goals which you and others set for you. I am pleased and proud to be your friend and to have been associated with you during your student days at BCCC.
—
Richard M. Turner, III, Principal, Turner Executive Search Associates and President Emeritus, Baltimore City Community College.

More testimonials

Rev. Jesse Louis Jackson, Sr. & Ib

Ib & Kathleen Sebelius

Gov. Martin O'Malley & Ib

Ib & Eric Himpton Holder, Jr.